I was given a suggestion to read an article from the Huffington Post  written  by AOL senior editor Lori Fradkin. Lori, like many of us living in today's society, decided to make a  purchase from an online sale where she got a Luella Bartley dress for $1. At the original price of around $750, she saved about $749. Or did she?
Fradkin, using her grandmother's wisdom of buying  in the moment in order to live without regret, bought the dress feeling that she found a true treasure. Until she got it in the mail. Fradkin could not get the top of the dress to zip leaving her to send it to the tailor. His charge? $95.
After the dress hung in her closet for a year, she took it out for a special occasion. When trying the dress on she noticed that now, it was TOO BIG. Another trip to the tailor cost her $75.
Was the dress still a good deal? Yes. Does this teach us a lesson? Yes.
No matter what, when you shop online be extremely careful about what you purchase. The only exception is if you absolutely, positively, know your sizing for certain products. Examples would be tights from American Apparel or Jeffery Campbell shoes. Accessories are a lot easier to pinpoint than clothes.
My advice to Fradkin is to be careful with anything corseted like the dress she bought. I hope that she is happy now with her purchase and can find various ways to wear it so that she doesn't have to tuck it away for years on end. 
Suggestions:
- Pair it with wedges, a great straw fedora, and some chunky bangles
- Wear it as a transition from beach to cocktails
- Wear it in spring with a nice cardigan to fight chills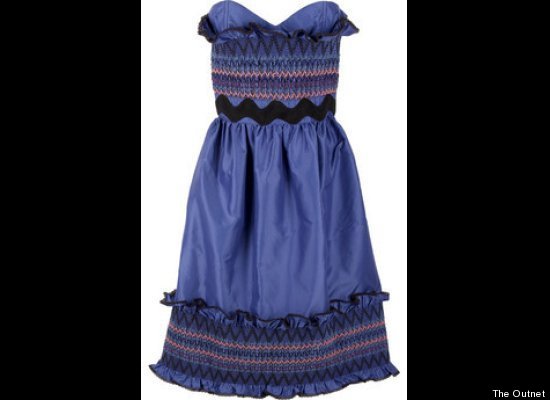 Photo courtesy of The Outnet