How many times have you, a friend, or a family member said this? It's okay, I'm just as guilty as you. Many of us have items in our wardrobe that may have been impulse buys that we now feel do not match with much of anything in our closets. Should you automatically throw it away or donate it? It depends. If it has holes, discoloring, or signs of wear then yes. It is doesn't fit you anymore then yes. If you just don't know how to style it, KEEP IT!
Take inspiration from Christina Anderson, a blogger for Stylelist, who took a Jason Wu for Target skirt and remixed it into five very cool, very chic outfits.
Photo credit: Target.com
Looking at this skirt, I think that it would instill anxiety in a great deal of people. Why you may ask? Well first off it is not your typical neutral black or brown skirt. It's baby blue! Wearing colorful items of clothing can scare someone, believe me I have seen it. A little color in your wardrobe is not going to kill you. What else makes this skirt oh so scary? STRIPES! Stripes can be tricky and many people wear stripes in ways that they shouldn't. The golden rule? If you want to appear tall and lean avoid horizontal stripes which make you look wide. The exception here is that the stripes are found at the bottom of the skirt which is a much safer spot than the waist or hips. The bottom line is don't be afraid of adding a piece like this to your wardrobe!
My personal favorite of the five outfits she created: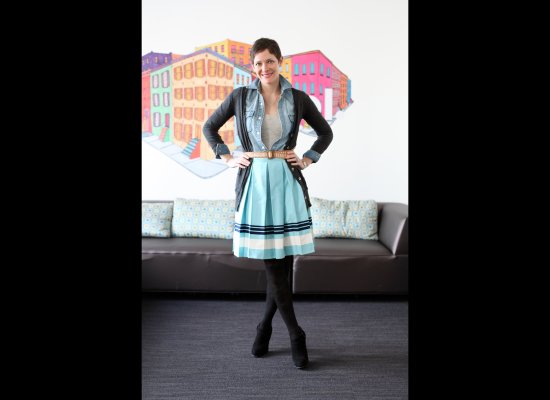 Photo credit: Stylelist.com
Christina has created a really great look here! The cardigan layered with a chambray button done keeps things relaxed and her belt really defines her waist. Black tights and booties are always a great idea for those of us who want to lengthen our legs to appear taller and leaner.
To check out Christina's other looks check out the article here!
Keep checking back as I am going to complete a similar challenge as well!
Stay stylish!